Remote Working
A United Desktop Experience Across Devices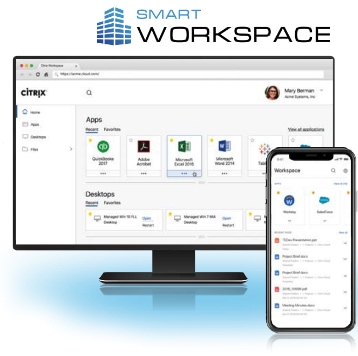 Want technology that provides the freedom to focus on your business?
Imagine a SMART technology solution that empowers your organization's productivity, efficiency and business agility giving you a competitive edge.
Want technology that provides the freedom to focus on your business?
We take the time to understand your business needs to build a complete and customized IT solution that aligns with your core values and business processes. You get anywhere - anytime access to your applications, desktops, and data, all secured in our datacenter, with 24x7x365 support.
Workspace Use Cases
Empowering a Healthcare Company to seamlessly expand from 1 location to 9 locations.
Enabling a logistics company to grow from 5 users to a global operation.
Allowing an airline company to realize access and collaboration – from the maintenance hangers, to pilots on the aircraft, to the loading ramp, and from multiple office locations.
Providing the ability of a financial firm to shut down a branch location and save money, allowing employees to work from home.
Giving an Airline software vendor the technology to deliver their application to customers worldwide.
A Workspace for Your Needs
FEATURES
BASIC
SMART
GENIUS
Single Sign On
Security Suite:


(Web Filtering, Secure Browser, Access Control)

O365 License
E1
E2
E3
Citrix Files
1 GB Storage
1 GB/Unlimited Storage
Unlimited Storage
Web, SaaS, & Published Apps
Web and SaaS
Web and SaaS
Veeam Backup
Line of Business Apps
None
Up to 2
Unlimited
Unified Endpoint Management
Performance/Security Analytics
Virtual Desktop Services
All Packages INCLUDE Support of your Workspace Environment!